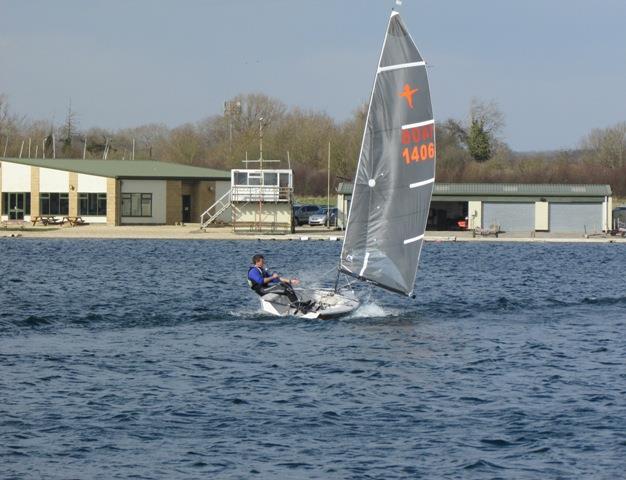 The Phantom Southern Travellers Series, sponsored by Suntouched Sailboats, kicked off on 15th March with round one being held at Bowmoor Sailing Club.
10 helms were welcomed to the club with tea, coffee and bacon rolls, and copious amounts of catching up after the winter break. It was nice to see many new faces among them.
Upon arrival the breeze was light, although it continued to strengthen, and the order of the day was 2 races back-to-back in the morning, lunch and a final race in the afternoon.
Once on the water competitors found the pre-start area fairly busy, the day was shared with the Supernova's who had a turnout of 21 boats. However there were usually several of them upside down at any one time, so perhaps not as congested as it could have been!
Race 1 saw a clean start, and although not making the best start Mike Tustin lead at the first windward mark and continued to stretch out a commanding lead for the rest of the race to take the bullet. 2nd at the windward mark was Steve Popple leaving Olly Hopkins and Richard Cumberbatch to battle for 3rd, with Olly coming out on top on the final lap.
Race 2 again started cleanly, again with Mike getting rolled on the line, but again managing to pull through to lead at the windward mark, and again continuing to pull out a large lead over the remainder of the race. Again Steve, Olly and Richard were battling for 2nd and 3rd. Paul Birbeck briefly made an appearance in 3rd position in his brand new boat, but after a quick dip at a gybe mark it looked like being Richard 2nd with Steve 3rd, until contact with a mark and the associated penalty turns from Richard meant Steve and then Olly got past making it Mike, Steve and Olly once again. Was there a pattern forming?
The break for lunch arrived and confirmed the fabulous hospitality that was hinted at earlier in the morning. Generous lasagne's and curries, on top of the breakfast meant that many helms were seen waddling back to their boats for the final race. Good job it was still getting windier.
Would race 3 prove to be the same as the first 2? It couldn't have been any more different…
Mike got away as was now expected of him, but an incident with a Supernova resulted in damage to his foils and forced a retirement. But counting 2 1st's the outcome of the day was already decided.
Suddenly finding himself in front, and then a LONG way in front, Steve wasn't entirely sure he had sailed the correct course. In the spirit of the sport, and not want to take the win if he hadn't earned it, Steve also retired. Did he actually sail the wrong course? Who knows. But, like Mike, Steve's position had already been decided as he was counting 2nd's Having been caught OCS Richard made contact with another boat whilst going back through the line, and capsized during his penalty turns. straight to the back of fleet for that man. All this left Olly chasing Shaun Curtis for the last race. But chasing was all he did, with Shaun taking the bullet ahead of Olly in 2nd and Paul Birbeck in 3rd.
Overall Results:
1st Mike Tustin
2nd Steve Popple
3rd Olly Hopkins
4th Shaun Curtis
5th Richard Cumberbatch
6th Paul Birbeck
7th Simon Clark
8th Alan Fuller
9th Jeremy Carr
10th Gary Lambert
All that remained was to thank Rick Plummer, who laid an excellent course with some fantastic reaches and the Milnes leading the rescue service. Registration and catering support was provided by the Bowmoor ladies with bacon butties and lunch amply provided by Pat and Stann.
The next event is this following weekend at Wimbleball with the Phantom Open on 22nd and the Beastie pursuit race on 23rd.
Look forward to seeing you all there.